motorsport parts and accessories catalog
Filter the products by choosing the category in which resides the product you are looking for. You can then select sub-categories to refine your search.

STAINLESS EXHAUST MANIFOLD pulls out potential power from turbocharged engine.
The best solution to reduce primary exhaust gas pressure and supply smooth exhaust gas to turbine is replacement of exhaust manifold. HKS supplies stock replacement type Stainless Exhaust Manifold.
Turbine performance is affected by Exhaust Manifold.
Shape, diameter of pipes and production quality of exhaust manifold between engine and turbine affect performance of turbine. HKS Exhaust Manifolds were developed with know-how and data from long time development experience of turbo technologies.
Diameter of pipes and design of bending are designed for each engine performance and displacement. Welding portion between flange and pipe is flattened to reduce friction of exhaust gas.
As a result, response of turbocharger at middle and high rpm range is improved. Both torque and horsepower are also increased.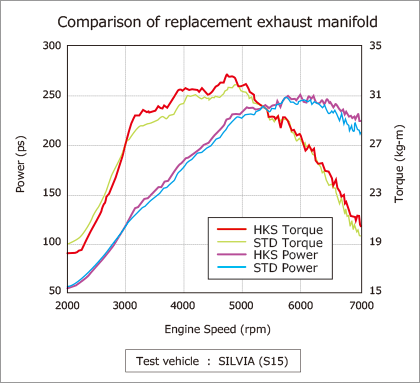 Showing 1 to 8 of 8 (1 Pages)